YSL BEAUTY LAUNCHES GLOBAL INITIATIVE TO HELP RESTORE AND PROTECT 100,000 HECTARES OF LAND FOR THE SAKE OF THE WORLD'S BIODIVERSITY
YSL Beauty has launched a new global initiative with non-governmental organisation Re:wild, with the goal of protecting and restoring 100,000 hectares of land in countries such as Indonesia, Haiti, Madagascar and Morocco by 2030.
Through its affiliate YSL Beauty, iconic French fashion brand Yves Saint Laurent has launched the 'Rewild Our Earth' programme in partnership with global NGO Re:wild, reflecting its commitment to making a positive impact on the planet and its people.
The Rewild Our Earth programme aims to protect and restore 100,000 hectares of land by 2030 and to safeguard biodiversity in priority areas affected by climate change where YSL Beauty's ingredients are sourced.
Inspired by the brand's longstanding involvement in Morocco's Ourika Valley, the project is inscribed within the brand's new sustainability platform, known as 'Change the Rules, Change the Future'. This revamped vision focuses on three key pillars: (1) Reduce Our Impact; (2) Rewild Our Earth; and (3) Abuse Is Not Love.
It's partner in the project, Re:wild, is a world-renowned NGO that works across 188 conservation areas in 89 countries to protect and restore biodiversity and to advance ecological restoration globally.
YSL Beauty's commitment to the earth is inspired by the legacy of fashion designer Yves Saint Laurent. Since the introduction of the innovative Ourika Community Gardens project in Morocco, in 2013, the brand has worked on restoring at-risk environments and has helped to empower local communities. In 2021, the brand affirmed its commitment as part of the United Nations Decade on Ecosystem Restoration.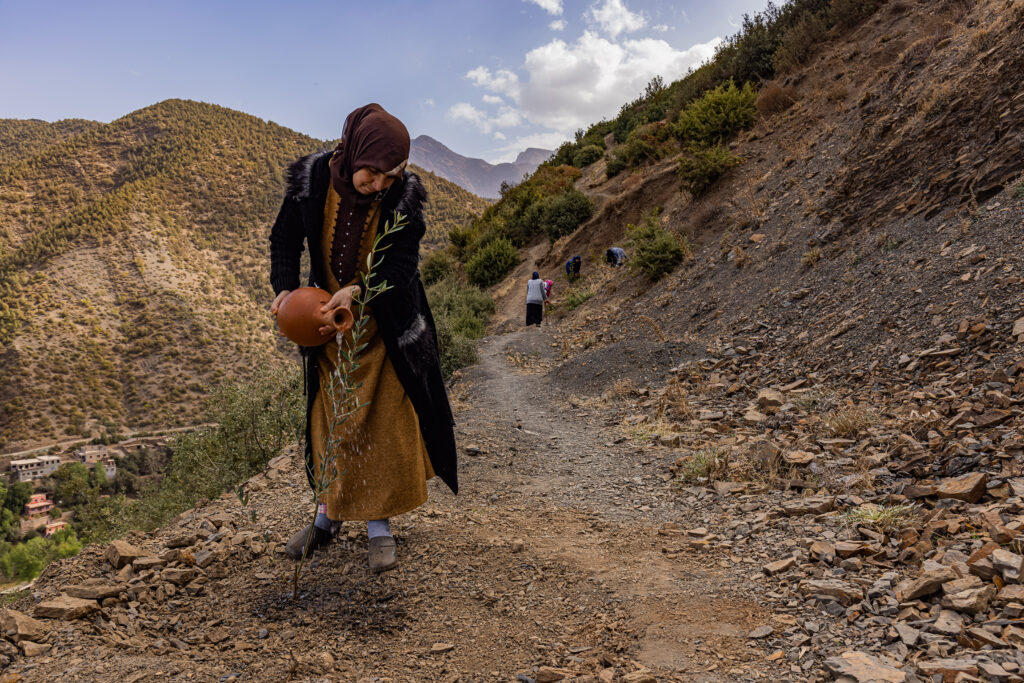 Indonesia, Haiti, Madagascar and Morocco at the heart of YSL Beauty's environmental strategy
The project launches this year and will focus on priority areas of biodiversity in countries where YSL Beauty sources ingredients for its products. Rewilding is an innovative approach to conservation based on a progressive effort to enable natural processes, repair damaged ecosystems, and restore degraded landscapes. The following countries are part of the 2022 programme:
The Ourika Valley, Morocco, is a region where the brand cultivates a range of ingredients (such as pomegranate, marshmallow, iris, jasmine, walnut, and saffron), and which lies at the heart of YSL Beauty's sustainability strategy. The Ourika Community Gardens project was launched in 2013 as a socially responsible program. Today, the site is home to more than 200 plant species with the brand continuing to help empower communities of women to better their autonomy through a co-created co-operative. Beyond the Gardens, YSL Beauty has planted over 125,000 trees throughout the Ourika Valley region since 2017 in a bid to mitigate ecological risks from rising temperatures, deforestation, and frequent natural disasters.
Haiti is linked with vetiver sourcing (an ingredient used in YSL Beauty fragrances). The island is experiencing an ecological crisis fueled by floods and landslides: the primary forest cover has shrunk from 60% in the 1920s to less than 1% today. This remaining land is a biodiversity hotspot with an astonishing diversity of wildlife. The brand's priority is to help save and manage the remaining important forests of Bois Pangnol, and the essential habitats and species within.
Madagascar is for YSL Beauty a major sourcing point for vanilla and geranium. In the world's largest Oceanic island and a critical area for sustainability, widespread deforestation has compromised an important remaining forest link between the important biodiversity areas of Analamanga and Alaotra Mangoro. The protected area of Anjozorobe Angavo is a remaining primary forest corridor, harbouring 558 species of plants, 9 species of lemurs, 34 species of amphibians, 36 species of reptiles, and 75 species of birds. YSL Beauty is supporting the restoration of this corridor with a program to restore 400,000 trees by 2023.
Indonesia is linked with patchouli sourcing. Described as the 'freshwater Galapagos', YSL Beauty is concentrating on lakes and surrounding areas of Sulawesi island, a home to unique flora and fauna species. These lakes are surrounded by largely unexplored forests, which act as watersheds that provide clean water and help to regulate the local climate; Saving the lakes will happen through the saving of forests and protect the area from over-development. YSL Beauty's objective is to reduce the impact of invasive species on the endemic species of the lakes (restoring more than 16,000 hectares of Lake Matano), while also working with forest-edge communities to manage, protect, and restore 30,000 hectares of forests.