TOURISM CAMPAIGN BRINGS MONTREAL, OTTAWA AND TORONTO CLOSER TOGETHER
It is a first-of-its-kind tourism campaign in Canada. To revive their tourism battered by the pandemic, the three cities of Montreal, Ottawa and Toronto encourage citizens from each other to come and visit. The campaign, which started in September, could easily be now extended to European travellers.
For once, Montreal, Ottawa and Toronto have set their friendly rivalries aside to create a new campaign aimed at reviving the excitement of travelling to three of Canada's largest and cities. The new campaign is called "City Friends with Benefits" and for French-speaking Quebec "Allez voir ailleurs, juste pour voir". It has been developed by the Destination Toronto, Ottawa Tourism and Tourisme Montréal, the Destination Marketing Organisations for each respective city. It is the first time that the three organisations have worked collectively on a promotion campaign. The invitation to visit comes as the tourism industry and urban destinations begin the slow recovery process after nearly two years of impact from COVID restrictions.
City Friends with Benefits is an invitation for travellers from each city to escape their home town and visit the other cities. The campaign is anchored by a playful song, in both English and French taking on the notion of "friends with benefits". It is purposely light-hearted, contrasting with the isolation and confinement over the course of the pandemic.
The track is a re-write and reworking of the iconic and undeniably catchy "Escape (The Pina Colada Song)" featuring all-Canadian talent that entices residents to plan their next city escape. The tongue-in-cheek single comes with a newly-produced video that captures the spirit, vibe and personality of each city while simultaneously being self-aware of the playful relationship between the destinations, and being stuck at home during the pandemic.
"The friendship along the Toronto-Ottawa-Montréal corridor is real, though the ability to catch up in person has been challenged by the pandemic," said Michael Crockatt, President and CEO of Ottawa Tourism. "If looking for an escape from a day-to-day, or a fun flirtation with another urban centre, the campaign will provide all the needed temptation !"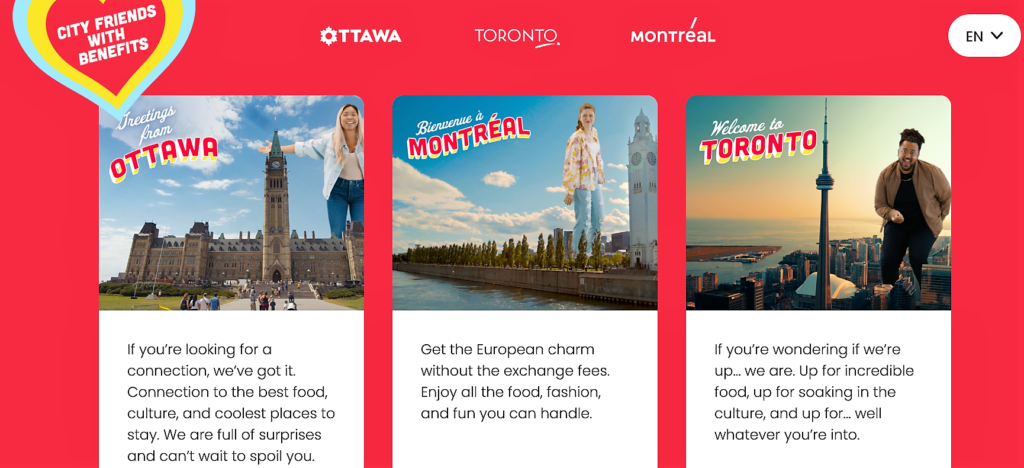 Incentives for locals to escape to the nearby cities include travel offers from Air Canada and VIA Rail, both offering 20% off travel between the three destinations. On the specific dedicated website, visitors can directly book their train connection, instantly obtaining a special discount code.
The integrated City Friends with Benefits campaign includes media channels such as Instagram, Facebook, digital and out-of-home advertising, as well as Spotify, TikTok and YouTube – a unique strategy for a tourism campaign, relying on music industry marketing best practices for a track and video launch.
A campaign for all travellers
"This is an unprecedented campaign for an unprecedented time. 'City Friends with Benefits' is an escape from the norm at a time when escaping is top of mind for all of us," said Scott Beck, President and CEO, Destination Toronto.
"Now is the best time to team up and showcase what our cities have in common," said Yves Lalumière, President and CEO of Tourisme Montréal. "With this innovative campaign, we are excited to share all the experiences we have to offer with people of Ottawa and Toronto. We know how to bring out the best of Montreal."
Originally conceived for the citizens of the three participating cities, the "City Friends with Benefits" campaign is actually open to all, as confirmed by officials at Tourisme Montréal. This used to be the campaign's best-kept secret. But not anymore.