SABAH'S NEW SICC AT HEART OF NEW STRATEGY TO ENERGISE ITS MICE SECTOR
Opened in 2020, the Sabah International Convention Centre (SICC) is the largest convention facility in Borneo and is now at the heart of a new marketing strategy to energise Eastern Malaysia's MICE industry, according to Isabelle Chai, director of sales, events and marketing SICC.
"The pandemic forced us to adopt a low profile for two years," explains Isabelle Chai, director of sales, events and marketing SICC. "But we are now fully open and we are ready to welcome all types of international conventions and events."
Located in Kota Kinabalu, the SICC is the largest purpose-built, waterfront convention, exhibition and entertainment facility on the island of Borneo and in East Malaysia.
The multifunctional, 60,504sqm complex is located on a 6-hectare site and offers a total function space of 153,197sqm. With its well-designed floor plan and extensive pre-function areas, that can accommodate up to 3,000 delegates, it is well suited for a wide range of public and private events such as conventions, consumer and trade shows, public exhibitions and product launches, performing arts and live music events, corporate meetings, seminars and workshops.
Colours and materials were inspired by the natural and cultural heritage of North Borneo; each design's feature and accents blend in to reflect the conservation efforts of Yayasan Sabah – the Sabah foundation which is behind SICC – and the ethnic diversity of Sabah.
"We are well positioned to capture the international market," explains Chai. "Our location along the Jesselton Waterfront City makes our centre easily accessible for delegates. They can actually walk from most of the hotels in Kota Kinabalu which helps reducing the carbon footprint on our environment."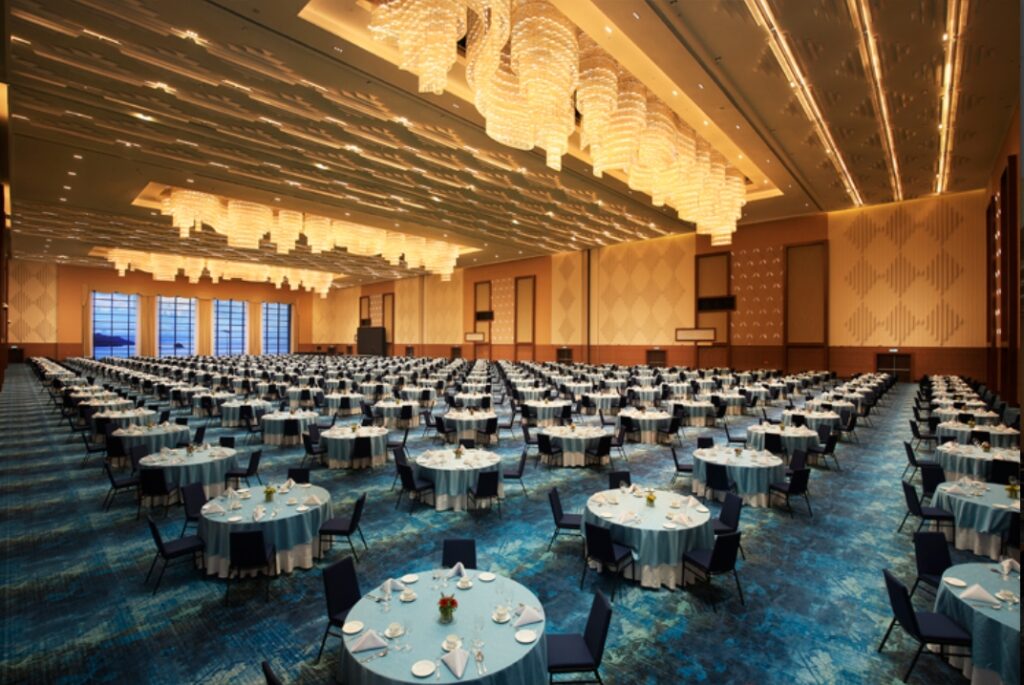 Air connections to be the next priority for Sabah government
While Kota Kinabalu already boasts hotel capacity of 6,000 rooms, there are even more hotels planned which will help strengthen its appeal to international visitors .
"The Hyatt Centric as well as the Alila Hotel are both due to open before the end of the year, bringing two more first class facilities to town," Chai adds. "A Crown Plaza property is also due to be completed for next year. They will ideally complement existing international hotel properties such as Hilton, Holiday Inn, Le Meridien or the Shangri-La."
The State of Sabah is now looking to improve connectivity to and from Kota Kinabalu in a bid to help boost visitor numbers.
"We need to attract international airlines into Kota Kinabalu as many carriers stopped flying during the Covid crisis," explains Noredah Othman, CEO Sabah Tourism. "We now have international flights to Singapore, Manila and Brunei. Both Singapore and Brunei are important for Sabah as they provide quick connections to Europe. Flights from Korea and Australia should soon be back again as well."
The reopening of Malaysia to the world has already translated into a jump in international travellers. In April, the number of international passengers passing through Kota Kinabalu International Airport significantly increased by more than 200% when compared to the preceding month.