Marina Bay Sands deepens ties with MICE giants
The partnership will further strengthen the Sands Expo and Convention Centre's appeal around the globe as a prominent MICE destination
Marina Bay Sands' award-winning Sands Expo and Convention Centre has deepened its relationship with two MICE professional bodies – Events Industry Council (EIC) and Professional Convention Management Association (PCMA) – to create strategic partnerships that will shape the future of the industry.
EIC, a prominent global federation representing over 103,500 individuals and 19,500 firms in the business events industry, has welcomed the Sands Expo and Convention Centre as its first strategic partner in Asia. The three-year partnership will see Marina Bay Sands further enhance its commitment to event professionals and industry excellence on a global scale, shaping the content of future meetings.
The partnership will provide Marina Bay Sands with a robust platform, offering strategic recognition and thought leadership opportunities in collaboration with EIC's Certified Meeting Professional (CMP), CMP Fellows, and Knowledge programmes. As part of the partnership, 100 client-facing staff in Marina Bay Sands will be accredited with the Sustainable Event Professional Certificate (SEPC) within the next 12 months, up from the current 50.
Industry excellence with EIC
With the integrated resort playing a leading bridging role, the partnership will enable more EIC-led initiatives to take place in Asia, including training programmes and study missions. This will result in an exchange of best practices and raise the standards of MICE offerings in the areas of sustainability and innovation across the region.
"We are honoured to be the first convention centre in Asia to collaborate with the Events Industry Council as a strategic partner," said Ong Wee Min, Vice President of Conventions & Exhibitions, MICE at Marina Bay Sands. "This partnership not only recognises our commitment to excellence in the events industry but also highlights our dedication to thought leadership, sustainability, and innovation. We are excited to foster the exchange of best practices and contribute to the growth and development of the industry."
EIC CEO Amy Calvert said the partnership is "grounded in our shared values promoting event industry excellence, building capabilities by advancing uniform standards of practice, and setting the highest standards for professional and personal growth for those in our industry."
She added: "We are grateful for the opportunity to work with Marina Bay Sands on a diverse set of initiatives that will benefit our industry and the event professionals we serve worldwide."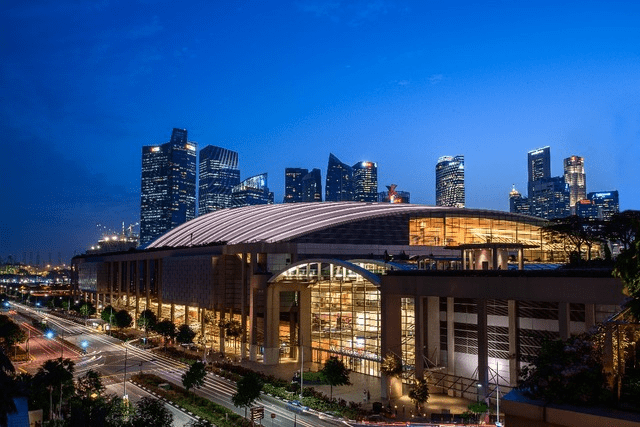 Strengthened partnership with PCMA
Marina Bay Sands has also deepened its longstanding partnership with PCMA. This latest collaboration builds upon the strong relationship that began in 2015 and signifies a continued commitment to advancing the global meetings and events industry. Over the years, Marina Bay Sands and PCMA have worked closely together on various initiatives, including talent development programmes and collaborating on industry issues, fostering a shared mission of driving excellence and innovation in the MICE sector.
With the new phase of the PCMA partnership, Marina Bay Sands will leverage the collective strength of Las Vegas Sands' properties in Singapore and Macao. By bringing together the expertise and resources across Sands' properties in the region, this collaboration aims to further amplify the shared objectives of PCMA and the integrated resort leader, addressing critical topics such as sustainability, innovation, technology, talent development and audience engagement.
"We are proud to deepen our partnership with PCMA by bringing the collective strength of Las Vegas Sands' properties to this collaboration. This partnership represents an exciting new chapter, harnessing the expertise and resources of both Singapore and Macao to deliver even greater value to our stakeholders and the industry as a whole," said Mr Ong.
"Singapore as a country has consistently punched above its weight globally and within the business events industry, Marina Bay Sands personifies such leadership. PCMA, for its part shares the same passion, commitment, and leadership in the business events arena globally and with our deepening relationship with Sands, we will use our collective strength to further drive economic and social good through business events in the region and around the world," said Sherrif Karamat, CAE, President & CEO, PCMA and CEMA.