KOREA LAUNCHES NEW GLOBAL MICE MARKETING CAMPAIGN – "UNIQUE VENUES 2021"
Under the ongoing COVID-19 situation, the Korea MICE Bureau has turned to digital outlets to promote the updated Korea "Unique Venue" programme with a brand new marketing campaign. The new campaign features a set of promotional videos along with SNS and media contents.
Started in 2018, the Korea Unique Venue programme comprises a list of recommended MICE venues in Korea, selected based on their ability to host MICE events while offering unconventional settings for memorable experiences. These locations showcase Korea's rich history, colourful culture and tradition, with the selection including everything from cruise ships to traditional folk villages to national museums. The program began in 2018 with a list of 20 venues, and since then has expanded to include a total of 39 venues. 
In-person MICE travel continues to face difficulties around the world under COVID-19 restrictions, and with difficulties in bringing overseas MICE travelers to Korea, the Korea MICE Bureau hopes the marketing campaign will serve as an opportunity to bring Korea's MICE venues to the world virtually.
The new promotional video combines the unique charms of the venues in collaboration with dancers to highlight a specific mood and feel for each venue. Busan Cinema Center transforms into a stage for ballet, while street dancers take over the tracks at Inje Speedium. Additionally, the opening of a new Korea Unique Venue microsite offers detailed information on the Korea Unique Venues using a new, easy-to-navigate platform. The dedicated microsite provides convenient access to information on each venue, including photos, rental facility information, service and equipment and more.
Korea MICE Bureau continues to seek ways to provide improved, informative content on Korea Unique Venues to help MICE visitors prepare for their future visits to Korea.
Necessity of a "Unique Venue"
The Korea Tourism Organization has selected 40 Unique Venues with unique charm and regional characteristics. The 40 Unique Venues selected through close review of attractive unique venues across the country, with honest recommendations from MICE-industry professionals and meticulous site inspections, will provide unforgettable experiences and lasting memories.
Venues where you can feel the unique concept of the MICE event host city or enjoy the unique charms that can only be experienced in the region. While not official MICE facilities (convention center, hotel), these venues allow for the hosting of MICE events in a unique setting.
The MICE industry is receiving the spotlight as the "golden industry" in the 4th industrial era, and with this growth, event venues are also diversifying. Companies and organisations that preferred large convention centres in the past have recently started to look for more special places and experiences, and interest in "Unique Venues" which highlight local culture and characteristics is increasing.
With the global international conference market having stagnated in quantitative growth, and the trend is shifting to that of qualitative growth, with organisations looking to host MICE events in venues selected to fit the brand image or the theme of the event, from sustainability, technological advancements to world peace and more. In particular, as we enter the era of 'with corona', the demand for venues that offer privacy while highlighting the concept of the event is increasing.
A selection of out-of-the-ordinary venues…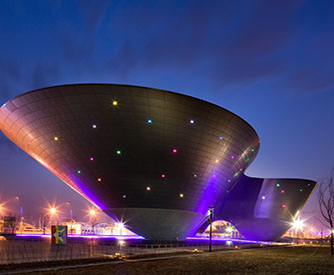 Tri-Bowl in Songdo, Incheon is a multi-complex culture and arts center renowned for its distinctive architecture.
Breaking away from conventional building design, it has a curved floor made up of three bowl-shaped spaces with a flat roof. Visitors must cross over a bridge that spans over a pool of water to get to the building which houses an arena-type concert hall (822 m2) and multi-purpose hall (221 m2).
The iconic Tri-Bowl is ideal for anyone looking for a creative and inspiring venue for a wide range of events, exhibitions, and occasions.
Floating Island Convention: The Floating Island Convention is Korea's only waterfront convention centre located in Some Sevit, three man-made floating islands that have become the landmark of Hangang River.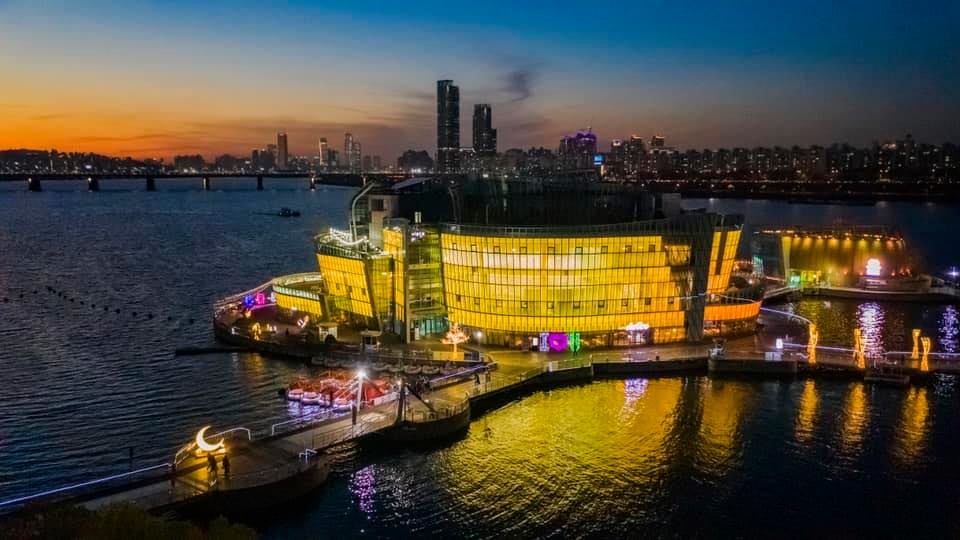 With seven small and large banquet halls, the venue can host a wide range of international conferences, business meetings, and cultural events.
Thanks to its 13-metre high dome-shaped structure, the convention hall is equipped with an 18-metre wide screen with 16,000-ANSI resolution to add to the experience.
The medieval-inspired Villa de Noche features a private balcony and is perfect place to hold elegant events. At night, the LED lights installed on the building exterior put on a fabulous light show. Considered one of Seoul's most attractive nighttime locations, the Floating Island Convention will help organise an unforgettable event.
The Korean Folk Village is a theme park that was built to introduce Korea's traditional culture to both local and international visitors.
Composed of restored traditional hanok buildings sourced from all across Korea, the theme park has vividly recreated the lifestyle and customs of the Joseon Dynasty through rigorous historical analysis and consultation with experts. Various experiences are offered on site for corporate guests and foreigners.
Every day, traditional performances, folk parades, and seasonal festivities are offered at the village. Parties and other events can be held at the Korean Folk Village Convention Centre and the Korean restaurant Hangukgwan.
The Convention Centre is suitable for holding training seminars and/or lectures, while gala dinners can be organised at the garden outside Hangukgwan.
The Korea Tourism Organisation is pursuing various projects to lead Korea's MICE industry, and since 2017, it has been intensively fostering the Korea Unique Venue program. The organisation continues to search for new Korea Unique Venues while supporting and promoting current ones, to provide a selection which allows one to experience not only Korean tradition and culture, but also art, leisure sports, Korean Wave, natural scenery and more.
Click here to visit the new Korea Unique Venue microsite.
Photo – top of page: Korea House in Seoul, one of the selected Korea Unique Venues (Credit: Korea House)
Read also: Korea supports MICE events with virtual fam tours and Covid-19 aid programmes