Kuwait to get world's tallest attraction with 1km high skyscraper
Kuwait is to launch the construction of a 1,001 m tall skyscraper which will provide the small Emirate with a world class attraction.
Its 1,001 meter height is to honour the famed 1,001 Arabian Nights tales… The iconic Burj Khalifa in Dubai, opened in 2010, might be overtaken by Kuwait's brand new skyscraper in the near future. The structure could then claim to be the highest in the world. The Burj Mubarak skyscraper is a staggering 1km high which will be at the centre of a new urban district project created in Kuwait and called Madinat Al Hareer -Silk City.
Burj Mubarak which will be built over the next 25 years, is symbolically paying homage to the most famous tale in the Arabic World, the 1,001 Arabian Nights book.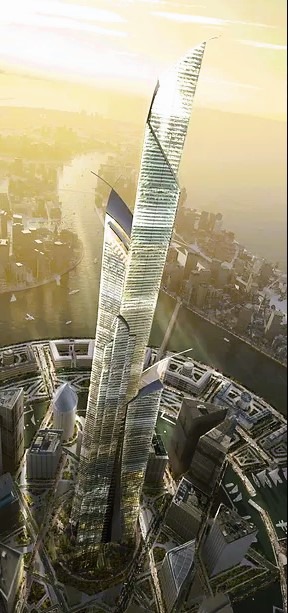 According to the website of the architectural cabinet, CivicArts LLP, the City of Silk will bring the promise of a new civic lifestyle on the Arabian Gulf. Madinat Al Hareer will bring all the environmental, commercial, cultural, leisure and civic aspirations to a new location in the Arab World.
It would speed Kuwait economic expansion by boosting its population and creating new jobs. CivicArts expects that once fully completed, the futuristic city will accommodate some 700,000 people and create some 430,000 jobs. The district will be surrounded by a new National Park and Wildlife Reserve, all enfronting the Bay, River and Gulf.
Madinat Al Hareer will be connected to Kuwait City by a new Bay-Bridge, joining with the new Arabian Bay Port, as well as potentially a new international airport. The project is estimated to cost US$132 billion, one of the largest projects in the Gulf area.
The tower itself with its 1,001 m height would have 234 floors and be able to accommodate up to 7,000 people. It will comprise apartments, offices, retail shops, entertainment amenities as well as hotels spread over seven vertical villages. The complex will feature a unique design comprised of three interlocking, twisting structures to withstand 240 km/h winds to avoid vibrations. No date has been given for the completion of the tower but it is certain to take at least 1,001 nights to be completed!