FORMER VILNIUS POWER PLANT GETS NEW LEASE OF LIFE AS 'INDUSTRIAL' CONCERT HALL
A power plant in Vilnius has been given a new lease of life as an impressive backdrop for exciting events, such as electroacoustic concerts, in the Lithuanian capital.
In keeping with Vilnius' industrial history and drive for artistic experimentation, one of the city's former power plants – which was built in 1983 and has been out of use since 2015 – has been reimagined as an events space. The venue is certainly one of the most unusual locations for events. It recently hosted a visually breathtaking concert by electronic composer Monikaze and the St. Christopher Chamber Orchestra of Vilnius.
According to the creative team behind the innovative project, the setting of the power plant was the perfect match for the artist's vision called the "Laws of Distraction". Performing among a maze of industrial pipes, lights and ladders, Monikaze uses an intertwining combination of electronic layers and live-processed string orchestra to explore the concept of "the human struggle in a noisy modern world".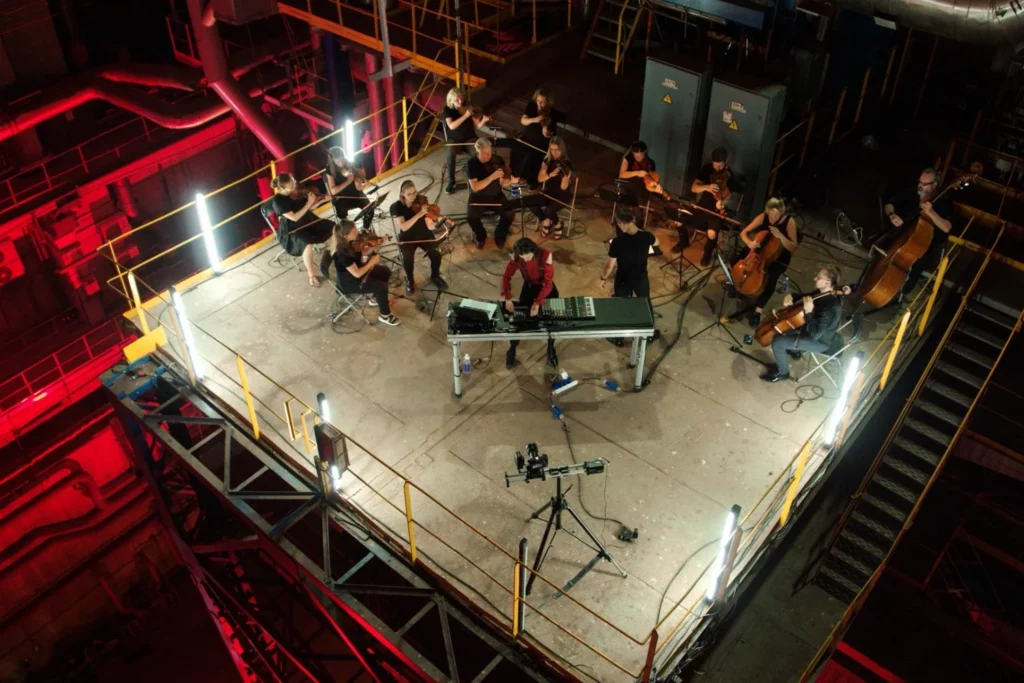 Monika Zenkeviciute, the real name of the Vilnius-based composer, says the venue played an important role in the whole performance: "We wanted a performance space with overwhelming visual distractions and after searching around Lithuania, we stumbled upon Vilnius Power Plant-3, which we all immediately knew was perfect. It is visually noisy, exciting and brings many conceptual layers complementing the core idea," she says.
Zenkeviciute adds it was thanks to the artists' collaboration with Antidote Community, a project that organises open-air audio-visual performances for independent Lithuanian artists, that "we were able to dream a little bigger". The performance was recorded in the summer.
"This collaboration is a great example of how seemingly distant musical styles can coexist and create intertwined artistic and unexpected pieces of music," says conductor Modestas Barkauskas. "Also, since the piece was fully filmed to be streamed online, hopefully audiences will appreciate the artistry of the musicians behind the creation and use this story to consider the futuristic dualism between human and machine-generated sounds in a wholesome way."
The concert opens the door to similar events in the future, which also might encourage more young generations of visitors to discover what Vilnius has to offer.
To read more about cultural events in the tourism industry, click here.