6 NEW IDEAS FOR A PERFECT LJUBLJANA CITY-BREAK
Is Slovenia's capital Ljubljana the perfect city break destination? It is on a human-scale, has great outdoors, offers sightseeing and cultural institutions within walking distance, worships organic food and above all has a very friendly population. With the lock-down being lifted, it is the right time to consider Ljubljana for a city break.
Ljubljana in Slovene language means "the beloved". And it is true that any visitors coming to this relatively small capital city – only 290,000 people live there – will fall in love with the place. Ljubljana is compact, offers an unusual architectural diversity on such a small territory, and is surrounded by an abundant nature. Over the years, Ljubljana has increasingly become a culinary destination, particularly for gourmets looking for organic food.
To reflect on the emergent Ljubljana gastronomic scene, in 2019, Ljubljana Tourism decided to collaborate with the internationally renowned gastronomic guide Gault & Millau. Experts from the guide evaluate restaurants, other food establishments, shops and hotels, in accordance with carefully prepared criteria. Recipients of the Ljubljana Quality Mark prove that food production in Ljubljana is of a high level and that Slovenia – selected as the European Region of Gastronomy 2021 – is a country successfully combining gastronomy and sustainable tourism..
Ljubljana also offers a cultural life on par with other European metropolises. It ranges from museums to the opera, open air concerts to theatre performances, and from festivals to street art.
In recent years, Ljubljana also embraced cycling, with many trails taking visitors from Ljubljana urban districts into Alpine areas as well as to villages and small towns. Heading for the outdoors is even possible by paddling.
To better assess the diversity of the town, Ljubljana Tourism recently created six themed packages for multi-day experiences and four special one-day experiences. These are aimed at different target groups – from families and senior citizens to wine lovers, food lovers and romantics.
6 themed packages to enjoy Ljubljana at its best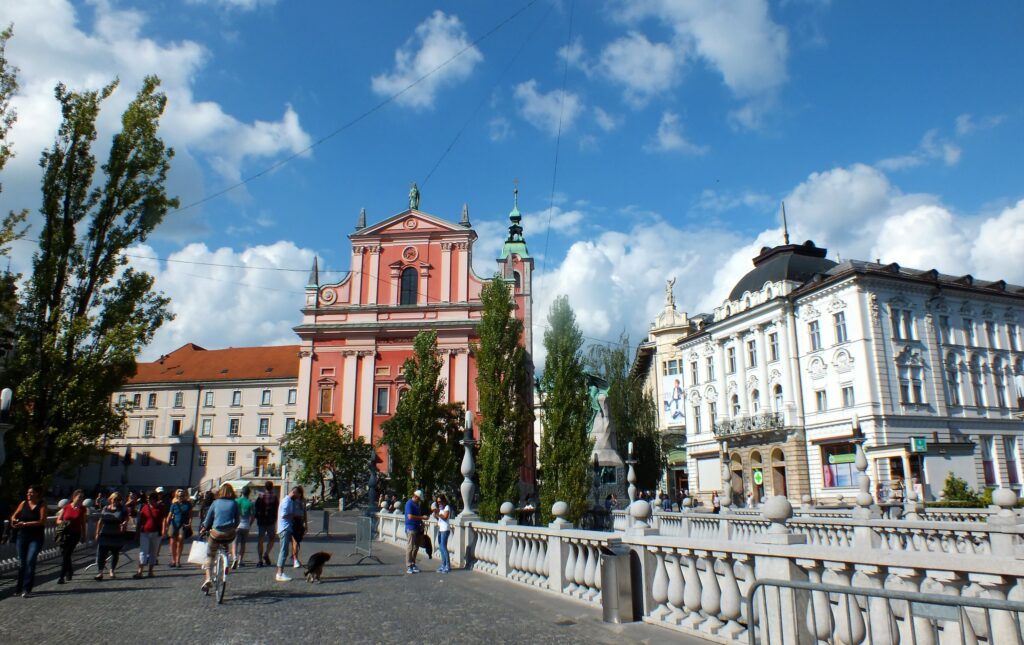 All the packages include bed and breakfast for two people (four in the case of family packages) in a three- or four-star hotel or private accommodation, late checkout (up to 2.00 pm), free parking, Wi-Fi and the Ljubljana Card which gives free access to a myriad of attractions, sightseeing and to all public transport.
The packages include the "Ljubljana Dragon on Holiday" for families with children, while the "Romantic Ljubljana Getaway" includes a boat trip down the Ljubljanica and embraces panoramic views of town. The "Weekend City Break" is a classic city break experience consisting of sightseeing on foot or by bicycle, shopping and local food. For those who are into luxury, the "VIP Ljubljana Weekend package" integrates a five-star hotel with a spa experience as well as a dinner in a Michelin-rated restaurant.
For more elderly visitors, the "Ljubljana Getaway for Senior Citizens" offers a tailor-made package including the discovery of the city's millennial heritage at Ljubljana City Museum and a comfortable sightseeing from a boat on the river or an electric vehicle. A personal assistant can also assist senior citizens during their stay. This service is actually available to travellers of any age. It is an optional way to maximise a stay in the Slovenian capital.
For those who do not wish to stay overnight, Ljubljana Tourism has also prepared a range of one-day experiences: both the "Ljubljana Dragon Adventure" or the "Have Fun in Ljubljana" package offer a great family day out with a myriad of activities for the young ones. Culture freaks will enjoy the package "A Cup of Culture in Ljubljana", which includes admission to the City Museum's exhibition, discovery of Slovene impressionist art at the National Gallery, and an exhibition of works by the world-famous French street artist Invader at the International Centre of Graphic Arts.