Costa Rica dresses all in green to celebrate bicentenary
Exclusive Interview – Gustavo Segura – Tourism Minister – Costa Rica
With a strong movement towards an ever more sustainable tourism industry, Costa Rica is at the heart of many discussions. We asked Tourism Minister Gustavo Segura what his key message is this year.
It's important for travellers and your readers to know that choosing Costa Rica as a destination to travel to, means a choice to support conservation of our global natural resources and to facilitate the social progress of rural and coastal communities in Costa Rica.
With the continued rollout of vaccinations in Costa Rica and around the world, and our focus on health and safety, we are optimistic that the next few months will be positive and that our tourism industry will continue to recover steadily. Costa Rica has been successful in managing this pandemic and containing the virus thanks to the government's quick actions to address the crisis and a free and universal healthcare, which was established over 80 years ago. Furthermore, we hold the World Travel & Tourism Council's Safe Travel Stamp, which recognises governments and businesses who have adopted its health and hygiene protocols.
You are participating in an interactive panel at ITB Berlin NOW. What will be the core message?
This year, Costa Rica celebrates the 200th anniversary of its independence, which is a point of pride for Costa Ricans. During times like this, it is important to recognise the characteristics that set us apart – our spirit, sense of community and the hard work and optimism that has enabled us to progress through this pandemic and move toward recovery. There are many cultural experiences that travellers can have during this time that celebrate this historic moment of independence for the country. These experiences, coupled with our strong healthcare system, make Costa Rica an ideal destination for travellers to visit now and in the future.
You were already known for sustainability. How are you innovating?
Costa Rica is one of the most biodiverse places on the planet. One of our more recent projects for sustainable ecotourism is a CO2 compensation programme for tourists, established through an agreement between the Costa Rican Tourism Board, which I lead, and the Costa Rican Forestry Financing Fund. We are offering tourists to offset the CO2 emissions caused by their air and land travel: On the fund's website, travellers can calculate the biological footprint of their trip and pay compensation for it into the fund. These payments are then used to support environmental protection services on site, such as tree planting, natural forest regeneration and agroforestry systems.
What are your thoughts on the ITB Berlin NOW show and convention?
ITB Berlin NOW is a great digital format to get in touch, be inspired and to meet different partners of the international tourism sector. We hope to be able to inspire visitors and participants,  and convince them of the advantages Costa Rica offers.

---
Even more adventure in Costa Rica
Costa Rica is a land of volcanoes, rainforests and cloud forests, huge waterfalls and mighty rivers. This abundant natural setting makes it difficult to decide between the various adventure activities it offers, which include rafting, windsurfing, diving, kayaking, recreational fishing and surfing.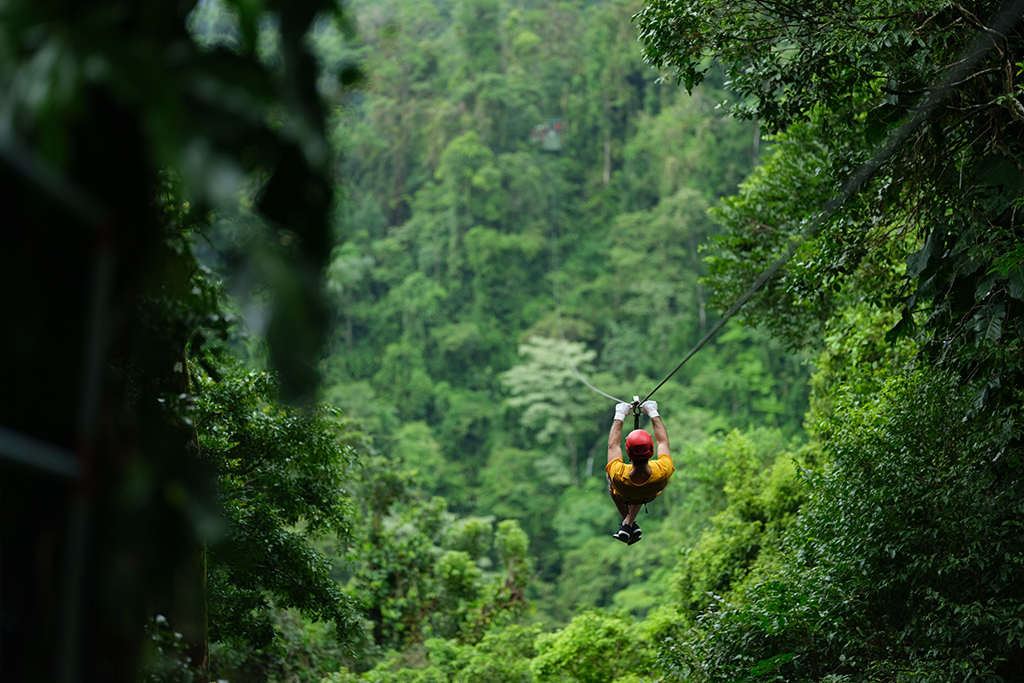 ---
ITB Interactive Panel:
Co-creating Sustainability in Tourism – powered by Futouris
Today at 16:00
ITB Berlin NOW Convention Stage 1
ITB Panel Discussion:
International Tourism Policy Makers Panel
Today at 16:20
ITB Berlin NOW Convention Stage 1