Enchanting Shennongjia: China's ecological jewel and inspiration for modernisation
"When I first visited Shennongjia, I felt as though I had stumbled upon the enchanting mountains and waters of Switzerland. It is a must-visit destination for everyone," says travel blogger Gong Biyang
The travel expert, from Argentina, expressed the sentiment during his presentation at the meeting on Chinese modernisation in Wuhan on May 29.
Hubei Shennongjia is located in the Shennongjia Forest District and Badong county in Hubei province. It is on the ecotone from the plains and foothill regions of eastern China to the mountainous region of central China.
In 2016, Shennongjia was officially included on the World Heritage List and was honoured with the title of "World Natural Heritage Site", thanks to its exceptional floral and faunal biodiversity and its protection of many rare, endangered, and endemic species, including dove trees and golden snub-nosed monkeys.
It also became the first location in China to be jointly listed under the three major protection systems of UNESCO – the Man and the Biosphere Programme, World Geoparks, and World Heritage – earning the prestigious title of "A triple-crown heritage site".
In recent years, the forest district has continuously strengthened biodiversity conservation and its comprehensive water ecosystem management, effectively protecting the diversity, stability, and sustainability of the ecosystem.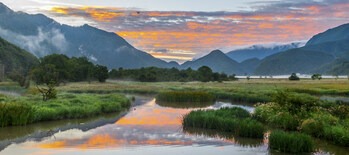 Currently, the biodiversity index of the entire area sits at 81.18, with 4,329 species of higher plants, 728 species of vertebrates, and 5,385 species of insects. Among them, 209 species are nationally foremost protected wildlife, accounting for 14.6% of the total.
Local villagers also benefit from the focused and comprehensive efforts to preserve the ecosystem of Shennongjia, leading to a thriving life that leverages the area's natural resources.
This includes engaging in science-themed tours and participating in birdwatching and night sky watching activities.
As part of its reform measures, the CPC Shennongjia Forest District committee, responsible for the area's development at county-level, has merged the administrative departments of the Shennongjia National Nature Reserve and the Dajiu Lake National Wetland Park, so as to facilitate the implementation of coordinated plans.
Situated at an altitude of over 1,730 meters, Dajiu Lake is one of the few typical alpine wetland areas in China. The wetland area boasts abundant alpine meadows, wetland ferns, and is home to rare animals such as storks, cranes, and sika deer.
The development of an ecological civilisation has been an integral part of China's modernisation initiative.
This commitment was officially announced during the 18th CPC National Congress in 2018, as outlined in the "Five-sphere integrated plan."
The plan aims to foster cooperation across economic, political, cultural, social, and ecological spheres.