IATA CALLS FOR URGENT RESCUE PLAN FOR UK AIR TRANSPORT
The International Air Transport Association has outlined the need for an urgent rescue plan for UK aviation in the face of an imminent unemployment catastrophe.
The United Kingdom is experiencing an unprecedented air transport crisis which threatens to put more than 820,000 people out of work across the entire UK economy, and further damage the recovery from the COVID-19 shutdown. The damage has, says IATA, been exacerbated by government policies, particularly the imposition of quarantine measures which kill demand for air travel. Without immediate action, the UK will fall behind international partners and will quickly lose its coveted position as the 3rd biggest global aviation market.
In order to resume air connectivity and save thousands of jobs, the UK government must, says IATA in an official statement, set out a rescue plan for UK aviation. IATA proposes a four-point plan to outline a roadmap for lifting quarantine measures and create a short-term boost to demand:
A testing regime, to unlock travel from high-risk countries
A review of the infection threshold for quarantine that is fully transparent and aligned with international partners
A suspension of Air Passenger Duty to kick-start demand
Extending the furlough scheme for the air transport sector until border restrictions are lifted and the industry has a chance to recover.
"The stop-start-stop closing of the UK to the world is not a successful survival tactic for COVID-19. Without a rescue plan, 820,000 jobs will be vaporized by quarantine and they may never come back. The answer is a COVID-19 testing regime that manages the risk to keep people safe from the virus. And it will avoid apocalyptic unemployment that is sure to devastate society and the economy," said Alexandre de Juniac, IATA's Director General and CEO.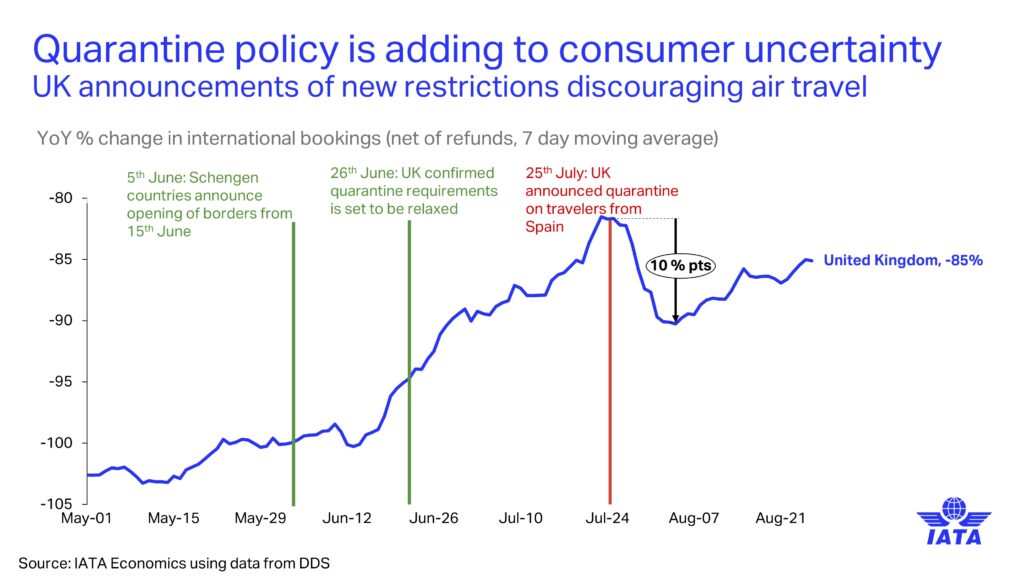 Testing
There is evidence that the UK people support the testing approach. In the latest IATA survey of passenger attitudes, two-thirds of people surveyed in the UK agreed that people who test negative for COVID should not have to quarantine, and 62% of people feel that COVID-19 is sufficiently under control to open up borders.
Many countries around the world have introduced testing regimes to support air travel. It is time, says IATA, that the UK brought forward a similar regime to work alongside the existing Travel Corridor policy. The UK has the opportunity to lead and shape global policy in this area.
Modified threshold
The present UK methodology for calculating which states should be subject to quarantine is opaque, but a frequently-quoted metric is the threshold of 20 infections per 100,000 of population. This level is not aligned with other European states. And if the UK were to agree to adopt a metric that was harmonized with other European countries it would give passengers greater predictability to plan their journeys, and give greater flexibility to maintain air connectivity. For this to be fully effective, however, the UK needs to be internally coordinated so that the devolved administrations are aligned with central government policy.
Suspension of APD and other financial measures
Aviation directly sustained more than 1.5 million jobs in the UK economy in 2019. The economic impact of the collapse in air traffic is estimated to be 733,000 lost jobs and GBP51.4 billion in GDP across the UK economy. If border restrictions and quarantine continue until the end of the year, an additional 87,000 jobs and GBP4.6 billion of GDP will also be lost. Failure to find alternatives to quarantine and the stop-start-stop approach to opening and closing destinations will see these economic impacts continue to increase in 2021. The UK will also lose its third place in the international table, a place it may never recover.
Alongside replacing quarantine with testing, measures to stimulate demand and support airlines will help to mitigate further job losses. Suspension of APD would stimulate demand. IATA says extending the "cliff-edge" end of the furlough scheme for sectors which are recognised to be disproportionately hit by COVID-19 restrictions – such as air travel – would also buy time for the industry to recover and hold on to jobs.