Delta Hotels by Marriott Jumeirah Beach promises a memorable and affordable vacation in Dubai
Discover Delta Hotels by Marriott Jumeirah Beach, a cosy and welcoming beachside property on Dubai's most iconic beach.
Delta Hotels by Marriott, Jumeirah Beach is a cosy and welcoming beachside hotel, located in the heart of the bustling JBR neighbourhood just steps away from the glistening waters of the Arabian Ocean. The hotel is the perfect destination for those seeking a comfortable and affordable beach vacation, complete with exciting restaurants and bars, and a range of amenities to make your stay as enjoyable as possible.

As you step into our lobby, travellers will be greeted by a friendly front desk team who will check you in and get you settled into your room. The hotel's lobby is small but welcoming, with comfortable seating areas where guests can relax and soak up the tranquil atmosphere.

The family rooms and apartments are spacious and designed to provide a comfortable and relaxing stay. They are simple but functional, with sumptuous beds and basic amenities to make guests feeling at home. Each room has a private bathroom with a shower, air conditioning, and a TV. For larger families, the hotel also offers apartments with up to four bedrooms, a fully equipped kitchen, and a large living room perfect to play or relax. Some rooms also feature a private balcony with a view of the ocean or Dubai Marina, where travellers can enjoy the breeze and take in the beautiful surroundings.
The hotel restaurant serves up delicious cuisine, prepared by the hotel's talented chef using the best ingredients. From Fogueira, serving traditional Brazilian churrasco to the brand new Jones The Grocer, a modern gourmet café, the menus offer a range of dishes to suit every palate. Speakeasy, the hotel's cozy traditional neighbourhood pub offers cold beers and delicious comfort food with a giant screen to watch your favorite sports.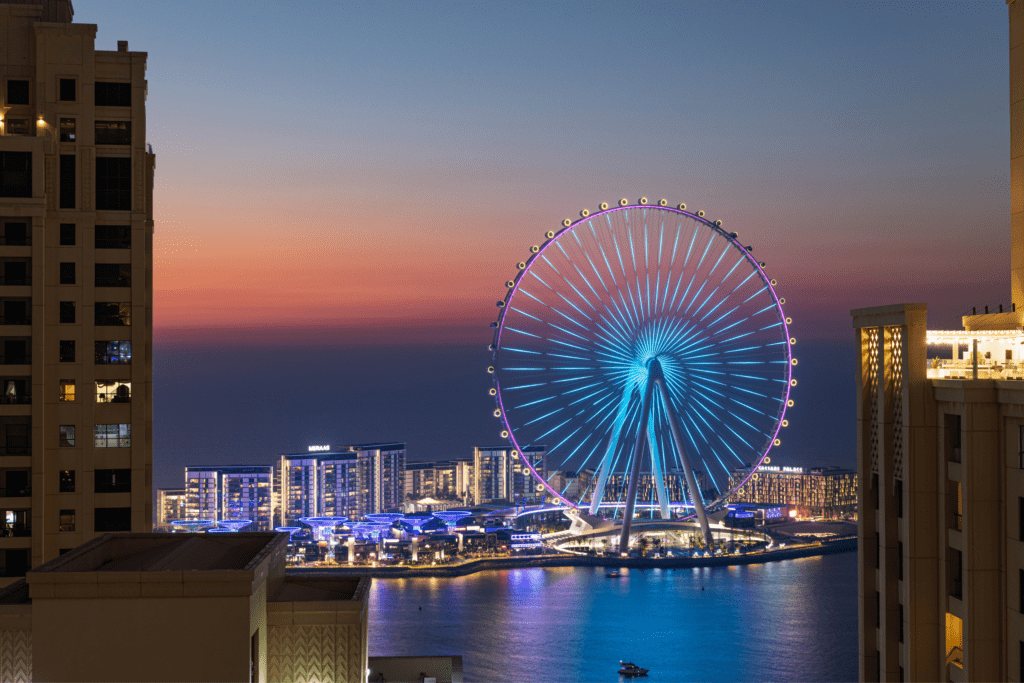 For families with young children, Delta Hotels by Marriott JBR offers a range of kids' activities to keep them entertained. There is a small indoor play area where kids can have fun and let off some steam, as well as access to a large outdoor play area located right beside the hotel. Beach toys and equipment are provided to the kids. They can build sandcastles and play in the shallow waters at the beach.
After a day of soaking up the sun and enjoying the beach, guests can relax and unwind in our outdoor swimming pool. It's a great place to cool off, with comfortable sun loungers and umbrellas for shade. There is also a small fitness center where you can stay active during your stay.

For those looking to explore the surrounding area, there are plenty of activities to keep the whole family entertained. Go for a stroll along the beach, take a boat tour around The Palm Jumeirah, or watch the latest movie at the cinema.

And when guests are ready to hit the beach, they find that the hotel is perfectly situated for easy access to the sand and surf. Pick up towels and a picnic basket at the property's beach counter and head out for the day. There is a choice between the JBR public beach, or access to the neighbouring beach club for a small fee.

At night, the hotel comes to life with a variety of entertainment options such as weekly BBQs and special nights, as well as live music performances in the bar area. It is the perfect way to unwind and relax after a day of sun and fun.
Delta Hotels by Marriott JBR beachside hotel is a comfortable and affordable option for those seeking a relaxing beach vacation. All the hotel staff prides itself on offering friendly
and welcoming service, and basic amenities. Whether travelling as a couple, a family, or solo, Delta Hotels look forward to welcoming travellers and making their stay as enjoyable as possible.