HILTON OPEN NEW CONRAD SHANGHAI HOTEL AMID EXPANSION IN GREATER CHINA
Hilton recently opened the anticipated Conrad Shanghai, one of several new openings in China. The hotel is located in the heart of People's Square, Shanghai's famed tourism and business district, a prime destination for the Hilton brand.
Conrad Shanghai features 66 floors and 728 rooms. It offers views of the East Nanjing Road commercial street, as well as Pudong's famed skyline. However, the location may be Conrad Shanghai's biggest sell, with close links to transport networks and metro lines. Busy shopping malls, traditional neighbourhoods and attractions such as the Shanghai Museum are all close by. Notably, it represents the continuing relationship between Hilton and owning company Shimao Hotel Management Group.
"We are thrilled to build on our robust luxury growth in Asia Pacific with the launch of the first Conrad in Shanghai, joining our 17 luxury hotels in Greater China with a further 10 under construction," said Alan Watts, president of Asia Pacific, Hilton. "Our growth momentum demonstrates the strength and resilience of Hilton's award-winning luxury brands amidst a dynamic market and sophisticated customer expectations". 
Chairman and CEO of Shanghai Shimao Hotel Management Company Tyrone Tang said "We are proud to elevate the success of our long-standing partnership with Hilton by bringing the second Conrad Hotels & Resorts property to fruition".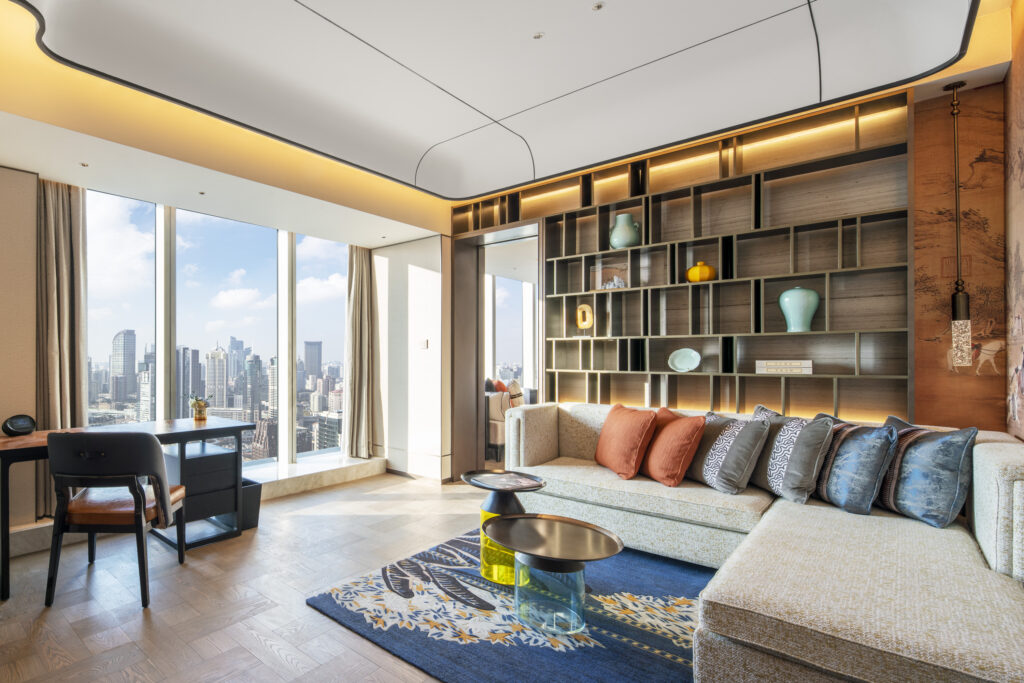 Conrad Shanghai takes inspiration from the past 
The design of Conrad Shanghai is inspired by traditional Chinese philosophy and architecture. The hotel lobby features a rooftop cornice, with a colour palette based on the five natural elements. The halls and lounges of Conrad Shanghai also featured paintings, pottery and calligraphy.
It is reported that all 728 guest rooms feature smart connectivity as well as floor-to-ceiling windows. Swedish luxury brand Byredo has provided specialised bath and body products for the hotel bathrooms. The hotel also features 60 luxury suites, perhaps most notably the Presidential Suite, which offers exclusive access to the Executive Lounge. The lounge is serviced by a concierge, with complimentary breakfast, evening cocktails and even workspaces. 
Conrad Shanghai features four restaurants, all specialising in different dishes and cuisines from across the globe. There is a Spanish, French and Chinese restaurant, as well as one specialising in seafood. The Bar & Lounge is split into two parts, with a penthouse-inspired event space and a classically-designed bar.
The hotel has also been made suitable for hosting events, with a 2,500 square meter event space, offering views of East Nanjing Road. The space even features a ballroom, and can host up to 600 guests.
Hilton expands in Greater China
The opening of Conrad Shanghai is just one of Hilton's ongoing projects in Greater China. Last year Hilton signed a multi-hotel deal with Shimao Group Holdings Ltd, with reports stating that four Chinese properties are to be opened under the Conrad and Waldorf Astoria brands.
As well as Conrad Shanghai, the agreement will add the Waldorf Astoria Shenzhen, Conrad Wuhan and Conrad Zhuhai. The Waldorf Astoria Shenzhen is to be located in the city's central business district, which was newly-developed and will also be home to the Shenzhen Hong Kong International Centre.
Hilton operates 15 hotels under the Conrad and Waldorf brands in Greater China. There are reportedly 11 hotels in production, with Conrad Jiuzhaigou and Conrad Urumqi also set for openings. Hilton has worked with the Shimao Group for over a decade. They have opened nine properties, including Hilton Yantai and the Hilton Wuhan Riverside.
Matt Fry, senior vice president of development, Asia Pacific, Hilton, said "The extension of Hilton's partnership with Shimao signals a complementary meeting of two powerhouses and is testament to the success of our development strategy in China to work with the right partners to grow our brands in the right locations".