ITB BERLIN AND IPK INTERNATIONAL: DEMAND TO TRAVEL RISES AROUND THE WORLD
There is a huge demand from global markets to travel worldwide, according to respondents of a recent survey conducted by IPK International, and published by ITB Berlin. The survey canvassed representatives of 18 markets, with a focus on how international travel behaviour has been influenced over the past 18 months. Here are some key findings from the survey.
Demand to Travel
One standout theme is the upward trend in travel intentions of global markets. Outbound travel intentions are at the highest level since the beginning of the 2020 pandemic, with 80% of respondents worldwide saying they were planning to travel again. It's also worth noting how travel intentions vary from continent to continent. European respondents' intention to travel is 87%, while American and Asian respondents register 71% and 63% interest, respectively. With that said, the latter two markets show a strong upward trend in recent months.
The majority of travellers are not looking into the far future for their next holiday. 81% of those interested in travelling abroad are planning trips over the next 12 months, with holiday intentions rising steadily since the beginning of the year. This only further indicates the strong demand to travel across the globe.
In-Demand Destinations
Responses to the survey also reveal which exact locations and destinations are proving popular across global markets. For one, Europeans prefer European destinations for the upcoming travel season. Spain remains the most popular location, followed by Italy, Germany, France and Greece.
American holidaymakers favour destinations in their home country, as well as Canada and Mexico. There is also distinct interest in Europe, with Italy and Germany being the most common response among Americans.
For Asian audiences, Japan, South Korea, Vietnam and China are the locations that most are planning to visit. Meanwhile, Germany and France are named as the preferred European destinations.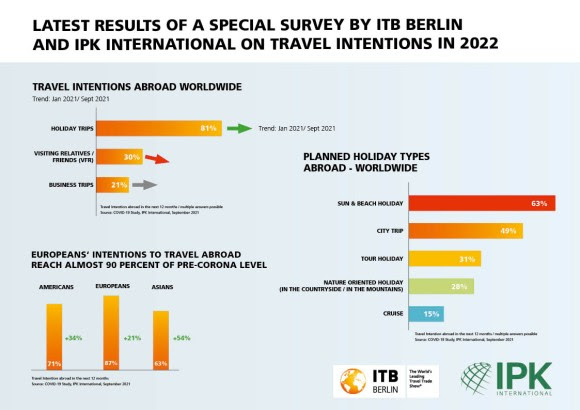 Popular Types of Holiday
The pandemic has also had a varied influence on demand for different types of holiday. As before March 2020, the focus for the majority of holidaymakers is on sun and beach holidays, with 63% of respondents preferring this type of vacation. This is followed by city breaks and round trips at 49%.
However, now there is more interest in nature-oriented types of holiday than there was before the pandemic. 28% of respondents said they were planning nature-oriented trips, be it to the countryside, a mountain range, or something related. Demand for cruises has also risen worldwide, with 15% saying they were planning this type of holiday.
Conclusion
Responses from across the global market indicate an increase in demand to travel. Assuming international travellers have a high vaccination rate, and are willing to work with reasonable travel measures, it could be said that the demand to travel means an internationally comprehensive recovery is possible as soon as next year.