City of Dreams Mediterranean Resort and Casino in Limassol to be a top venue for MICE in Cyprus
City of Dreams Mediterranean's official opening marks the beginning of a new era for tourism in Cyprus with Limassol welcoming Europe's largest premier integrated resort. Run by Chinese company Melco Resorts & Entertainment, the resort offers first class facilities for MICE events.
Europe's first integrated resort, City of Dreams Mediterranean, officially opened its doors in Limassol on Monday, 10 July, marking the beginning of a new era for tourism in Cyprus.
With a total investment exceeding €600 million, the iconic City of Dreams Mediterranean is one of the largest development projects of its kind ever undertaken in Cyprus. City of Dreams Mediterranean aims to establish the island as a year-round destination for premium tourism and world-class entertainment, as well as a hub for international business and conference tourism.
Striving to become a regional landmark, the resort will contribute towards the sustainable growth of the Cyprus economy by attracting at least 300,000 visitors each year while creating hundreds of jobs and developing a chain of value for the local community through collaborations with Cyprus suppliers and businesses.
Mr. Lawrence Ho, Chairman and Chief Executive Officer of Melco Resorts & Entertainment said, "Today marks the start of the most exciting chapter. City of Dreams Mediterranean gives Cyprus a new story to tell by blending local culture, hospitality and beauty with a new form of entertainment and experience. City of Dreams Mediterranean provides premium luxury, inspired and infused with local flavour. It allows Cyprus to unlock new markets in the region and beyond. Having a resort of this quality, with all its attractions, including the largest expo facilities on the island, opens multiple new possibilities. The resort is a product of incredible hard work by many thousands of individuals through the partnership with the government, the business community, our colleagues and the people of this island. I would like to take this opportunity to acknowledge their achievement here in Cyprus. Thank you to all those who have helped turn this dream into a reality."
In his address, Mr. Grant Johnson, Property Manager of City of Dreams Mediterranean, thanked the people of Cyprus for embracing the project and making it possible, and paid special tribute to his colleagues for the tireless hours spent over the last years:"This tremendous achievement is testament to the incredible cooperation and support we have received here in Cyprus.  This resort, the largest of its kind in Europe, is, like everything we do, the product of partnership. The combination of our brand, our expertise in entertainment, the thrill of our gaming, the quality of our guest experience, hand in hand with Cyprus culture and hospitality, is an extremely powerful mix. Cyprus is now ready to compete across Europe and the Middle East in luxury tourism and large-scale conferences."
As Europe's largest and premier integrated resort, City of Dreams Mediterranean claims to deliver an incomparable experience to satisfy every taste, ranging from luxury hospitality – with its 14-floor hotel featuring 500 guest rooms and suites – to a 1,700 sqm luxury retail promenade inspired by the streetscape of the old town of Nicosia, iconic architecture, renowned art, sporting facilities, an outdoor amphitheatre and a family adventure park as well as a world-class conference and exhibition space stretching over 8,000 sqm, spacious and contemporary gaming experience, not to forget fine dining.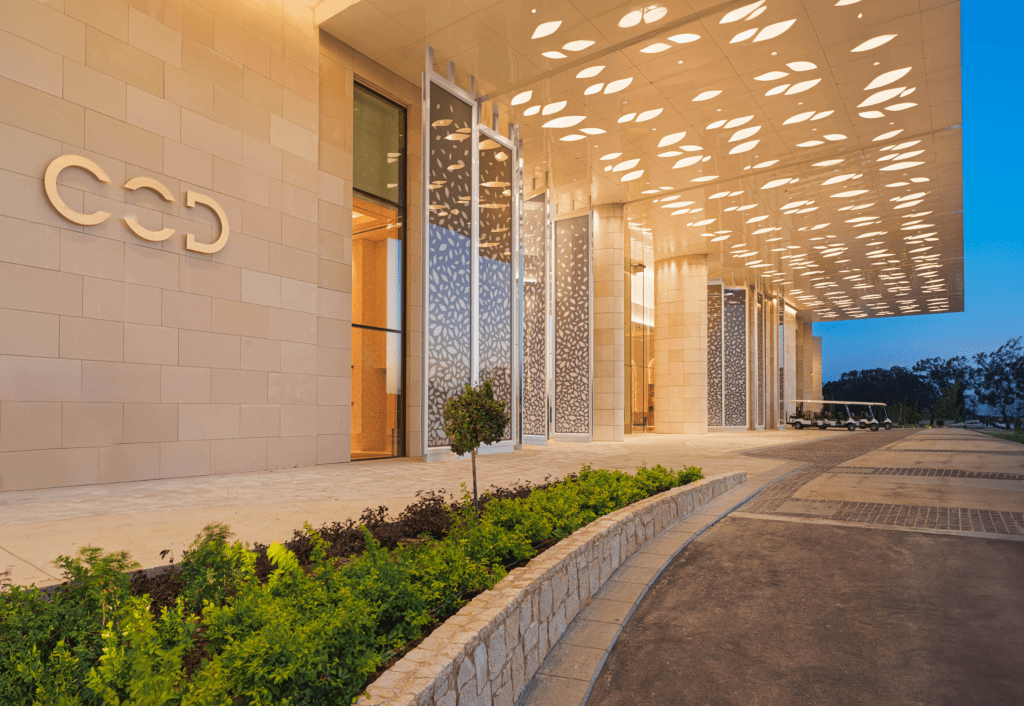 MICE activities are due to play an important role: the 8,000 sqm indoor and outdoor EXPO Centre is de facto the largest in Cyprus. The Grand Ballroom can seat up to 880 guests. The Forum has a 12m ceiling height while a second facility -a 200-seat amphitheatre- offers further possibilities for conferences. While a terraced lawn is ideal for outdoor entertainment.
The casino has an over 7,500 sqm gaming area with 100 tables and 1,000 state-of-the-art slot machines making it the largest of its kind in Europe.
With sustainability at its core, City of Dreams Mediterranean is the first development in Cyprus to achieve a BREEAM Excellent rating for its sustainability strategy at its design stage. Recently, City of Dreams Mediterranean was also honoured by The European Property Awards 2023 for achievements in three categories, including Best Hotel Architecture Europe, Best Sustainable Commercial Development Europe and Best New Hotel Construction & Design Cyprus.