EXPO 2020 DUBAI TICKET TYPES REVEALED
With less than three months to go until the start of Expo 2020 Dubai, organisers have given more details about the event, including details of ticket types.
Coinciding with UAE's Golden Jubliee, Expo 2020 Dubai is the first World Expo to be held in the Middle East, Africa and South Asia.
Expo 2020 Dubai prices have been announced with three ticket categories being offered to international visitors. A single-entry ticket will cost €22, a multi-day pass (30 consecutive days) will cost €45, while a seasonal pass (six months) will cost €114.
All ticket types include access to the 190+ country pavilions, where visitors will experience the world in one location; from Germany to Ghana, Switzerland to Spain and USA to the United Arab Emirates.
Included in the price, visitors will get to experience the events and entertainment programming, with up to 60 live events each day, from world-class music, dance and art to insightful talks and colorful national day celebrations.
Visitors under 18, above the age of 60 and "people of determination" will enter free at any time, with the accompanying person getting a 50% discount.
Expo 2020 Dubai tickets will go on sale worldwide from July 18, 2021 at https://www.expo2020dubai.com and via Expo 2020 authorised ticket resellers. There are more than 2,500 Authorised Ticket Resellers, including online travel agents, tour operators, hotel groups and airlines from 100-plus markets around the world. For more details, visit https://www.expo2020dubai.com/en/tickets-and-merchandise/ticket-resellers.
Expo 2020 Dubai will run from October 1, 2021 to March 31, 2022 and will be open from 10am until midnight (weekdays) and from 10am until 2pm on weekends and special days.
The Expo's theme is Connecting Minds, Creating the Future. The three sub-themes – sustainability, mobility and opportunity – are areas organisers see as essential to building a better world for everyone.
Expo 2020 Dubai is billed as a global experience dedicated to bringing together people, communities and nations to build bridges, inspire action and deliver real-life solutions to real-life challenges; a launch pad for broadening horizons and exchanging ideas, Expo is all about innovation, collaboration and inspiration, and the UAE's commitment to building a cleaner and safer, healthier future for everyone.
In a spirit of optimism, Expo 2020 Dubai will gather more than 200 participants – including 190-plus countries, as well as multilateral organisations, businesses and educational establishments – for visually striking, intellectually enlightening and emotionally inspiring 182 days.
Through Thematic Weeks, participants will explore solutions to fundamental challenges such as climate change and biodiversity, equal access to education and bridging the digital divide.
Country Pavilions
For the first time in World Expo history, every participating country will have its own pavilion. Enjoy immersive cultural experiences and discover what makes each country unique as you explore hundreds of pavilions.
Al Wasl dome and Burj Khalifa light up to celebrate 100 days until Expo 2020 Dubai welcomes the world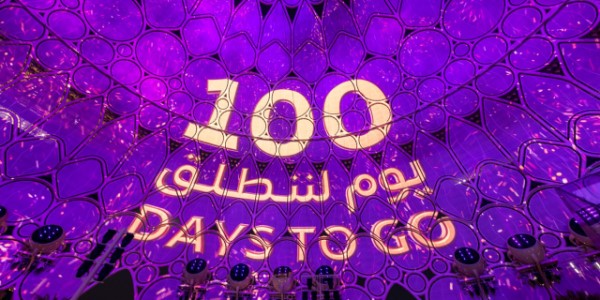 Marking 100 days to go until the whole world gathers in one place, Expo 2020 Dubai last month used its cutting-edge projection and display technology to light up Al Wasl dome, where more than 250 laser projectors lit up the world's largest 360-degree projection surface to stunning effect.