…Because it's the veritable melting-pot of Asian cultures – as witnessed by its vibrant UNESCO World Heritage cities
We've all heard the catch-line, Malaysia Truly Asia. As it turns out, Malaysians are particularly proud of the nation's seamless blend of Malay, Chinese, Indian, and "orang asli" (original people) cultures across its 13 federal states. Underlining this, two cities stand out. 
Georgetown, Penang
The capital of Penang is a place to venture if you are eager to explore a city overflowing with Malaysia's cultural wonders; exhibiting a vibrant mixture of modern lifestyle, foods, shops… and lots and photo ops.
There are at least 12,000 buildings in Georgetown recognised by UNESCO, including the colourful Chinese shop houses, jetties, churches, mosques, temples, and even British colonial buildings.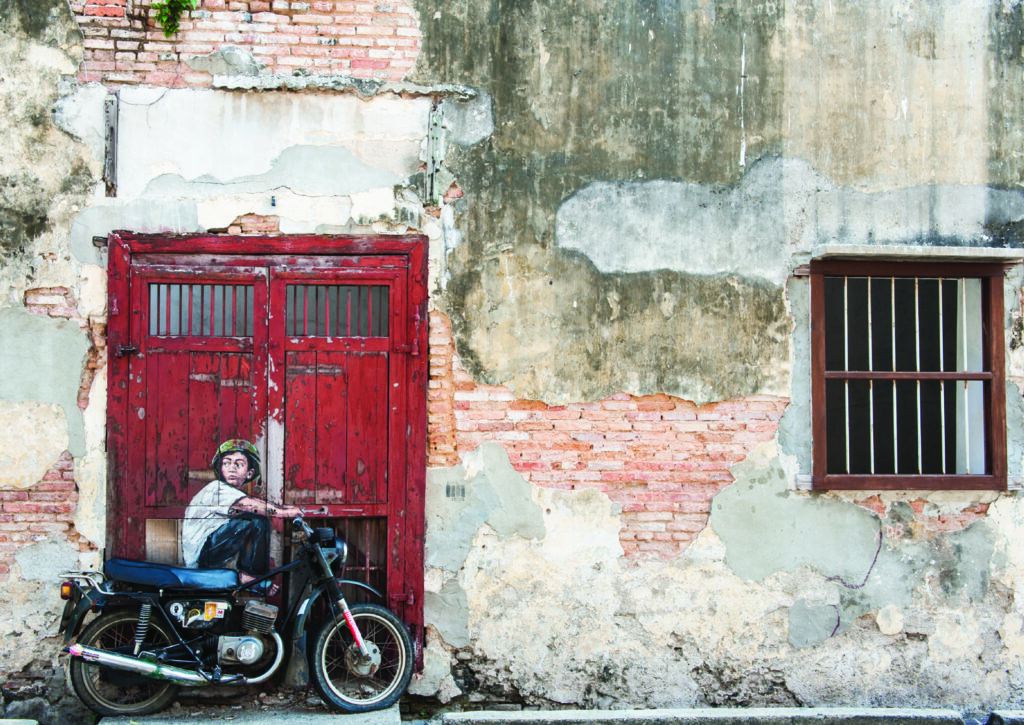 Two world-renowned artists, Ernest Zacharevic and Julia Volchkova have displayed their arts along the small streets of Georgetown, painted on the walls of classic buildings. The history of Georgetown and its residents is also depicted on murals and art works all around the city, including more than 50 iron caricatures – better known as the street arts.
The pedestrian-friendly town is also famous for both old and new coffee shops, from the classic kopitiam to the modern, cosy cafes. Penang's gastronomy is also one of the top priorities on tourists' lists, ranging from its signature Char Kway Teow that comes with prawns, cockles and chicken, Pasembur, Popiah, Nasi Kandar, Cendol, Assam Laksa and more. The exciting burst of flavours has recently placed Assam Laksa 7th on the World's Best 50 Foods list.
There are more attractions to discover in Penang such as The Top; located at Komtar, the 3D Trick Art Museum, Colonial Penang Museum, and Clan Jetties – all close to one another.
Melaka City
Journeying through Melaka City introduces the visitor to the narrative this city preserves from hundreds of years back; with glorious conservation and preservation of the imprints from the past. Touring around the state gives a well-documented experience that one can never encounter in other Malaysian states.
Melaka City is located in the state of Melaka, just 125 kilometres from Kuala Lumpur. For centuries, notable historical sites like St Paul's Church, Christ Church, and Stadthuys remain as must-visit tourist spots in the city; offering an illustrious portrayal of every detail chronicled in each monument. The architectural styles of the various buildings are incorporated with colonial features, making them top attractions for photo-enthusiasts to test their skills.
One of Melaka City's must-visit places is Jonker Street, where visitors can do some light shopping, find great food, or experience Melaka's nightlife. It is also the best spot to find convenient souvenir shops, art galleries, and antique stores. Another not-to-be-missed place is Bandar Hilir, boasting some of the best-known historical monuments in Melaka, such as Stadthuys and St Paul's Church, beautifully outlined with refined colonial architectural features. 
Aside from being historically rich, Melaka is also famous for its Peranakan culture. The culture is varied and often viewed by locals as a unique cultural blend of two ethnicities, Chinese and Malay. Different aspects of attributes are represented through Peranakan culture as it is infused from Victorian and Dutch influences. At Baba Nyonya Heritage Museum, the visitors gets to learn about the background of Peranakan culture and its origins, distinguished through features such as food, clothing, and architecture.
Photo: City Hall, Georgetown, Penang